A Complete Guide to Buying a Drone: Updated
Drones come in all shapes, sizes, models, and price points, and finding the perfect drone for your intended use can sometimes feel like a daunting task. Whether you are looking for a drone to practice your piloting skills on or a drone that is capable of capturing cinema-quality footage, knowing the intended use of your drone is an essential part of narrowing down the search and finding the perfect drone to fit your needs.
Below is a list of our recommendations when it comes to finding the drone to best fit your intended use. Whether you are a professional aerial photographer or a hobbyist ready to take to the skies.
THE HOBBYIST
DJI MAVIC PRO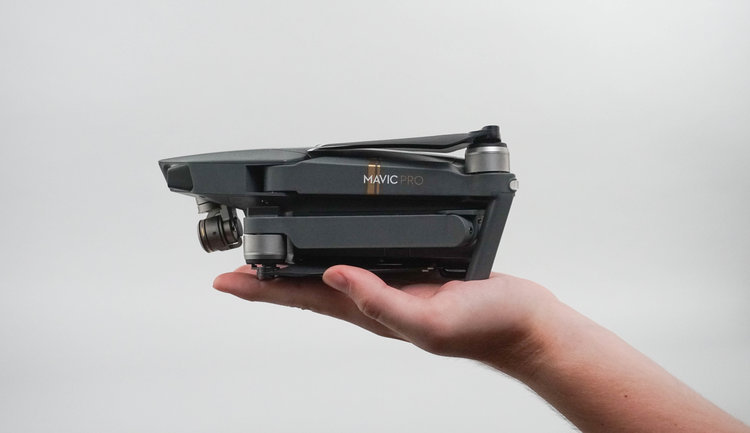 If you're a recreational user who is always on the go, the recently released DJI Mavic Pro is the perfect drone to accompany you on your next aerial adventure. As the most portable drone released by DJI to date, the Mavic Pro features a revolutionary foldable design, enabling it to fold down to roughly the size of a water bottle and fit comfortably in the palm of your hand.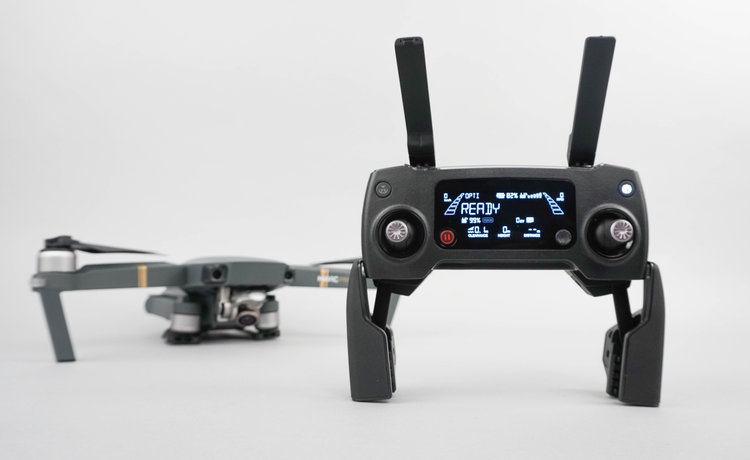 The Mavic features the same camera specs as the DJI Phantom 4, capable of shooting 4K 1080p video and 12-megapixel stills. The camera is supported by a 3-Axis gimbal to ensure that footage is smooth and steady in the air. Avoiding any potential crashes is also made easier thanks to the Mavic's innovative obstacle avoidance system, featuring both front and bottom facing sensors. The Mavic Pro additionally features a flight range longer than the Phantom 4, with a range of 7 km, and a battery life of approximately 28 minutes.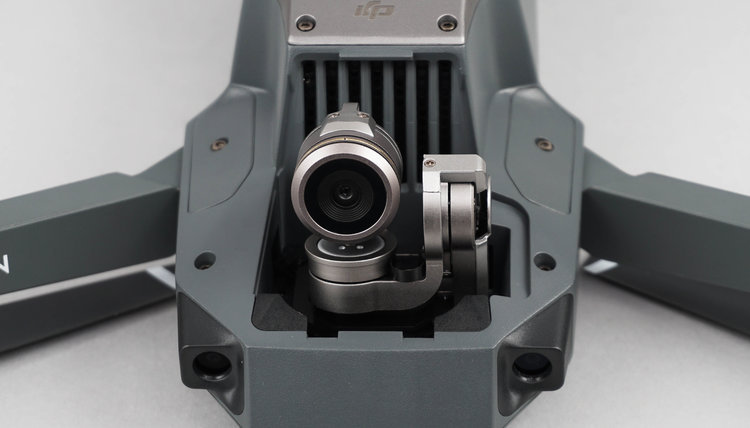 The drone itself is extremely easy to use and features a remote controller that can accommodate any sized Smartphone or iPhone. The remote additionally features a 5.5 inch LCD built-in screen, as well as dedicated buttons for flight modes such as Return-to-Home, and a pause/play button.
The Mavic's compact size, new intelligent flight features, long range, innovative obstacle avoidance system, and high-quality camera, make the Mavic a powerful drone in a small package that is perfect for any hobbyist.
DJI PHANTOM 4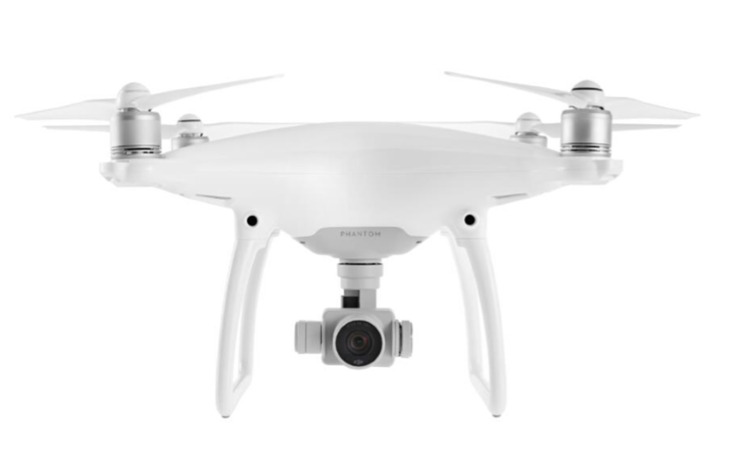 The DJI Phantom 4 is popularly dubbed the drone that anyone can pick up and fly. The drone features a simple, clean design to go along with its simple controls that make it extremely effortless to fly.  
The Phantom 4 was the first entry-level drone released by DJI that featured an obstacle avoidance system with front and bottom facing sensors to enable the drone to automatically stop and avoid obstacles in its path. The Phantom 4's Visual Positioning System (VPS) is also greatly enhanced with built-in, bigger sensors and two additional cameras for overall better depth perception.
The body of the Phantom 4 is made with high-quality magnesium that reduces vibrations in flight and moves the drones weight to its centre of gravity for additional stability. Its gimbal also features a U-Frame design to keep footage steady and balanced for extremely smooth video and still photos. The Phantom 4 is additionally equipped with an extremely powerful 4K 12-megapixel camera that can easily capture stunning aerial footage.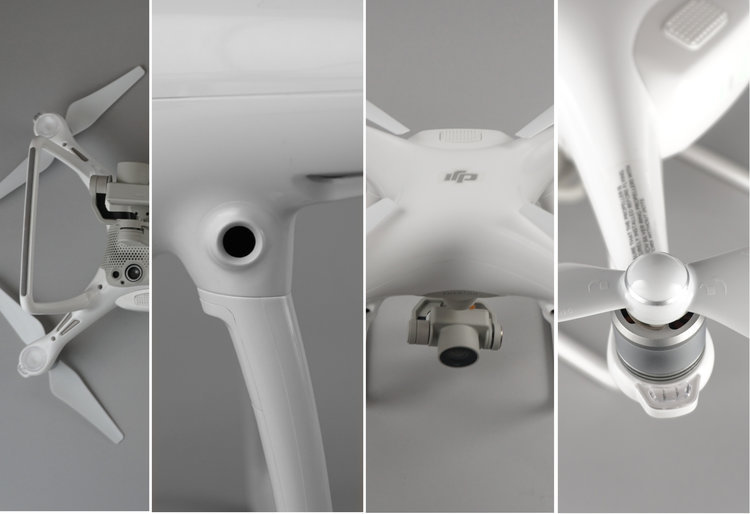 For any hobbyist, the Phantom 4 is the best drone out there in its price range. It's powerful, user-friendly system packed with new features makes it the perfect choice for anyone looking for a reliable, and easy-to-use system that is capable of capturing stunning footage from the skies.
PROFESSIONAL PHOTOGRAPHY
DJI PHANTOM 4 PRO
The recently released Phantom 4 Pro is the latest drone in the extremely popular DJI Phantom series that features brand new upgrades and a state of the art 360 obstacle avoidance system.
When it comes to the Phantom 4 Pro, the camera is where the drone really shines. The Pro is equipped with a 1-inch CMOS sensor capable of shooting 20-megapixel still with up to 11.6 stops of dynamic range. The camera can even shoot 14 photos per second in burst mode as well as capture slow motion video at 60 frames per second. The Phantom 4 Pro's 20 megapixel camera and 24 mm focal length ensure any footage captured is of extremely high image quality. The upgraded 360 obstacle avoidance system also ensures that the drone can avoid obstacles coming in at any direction, keeping pilots safe in the skies.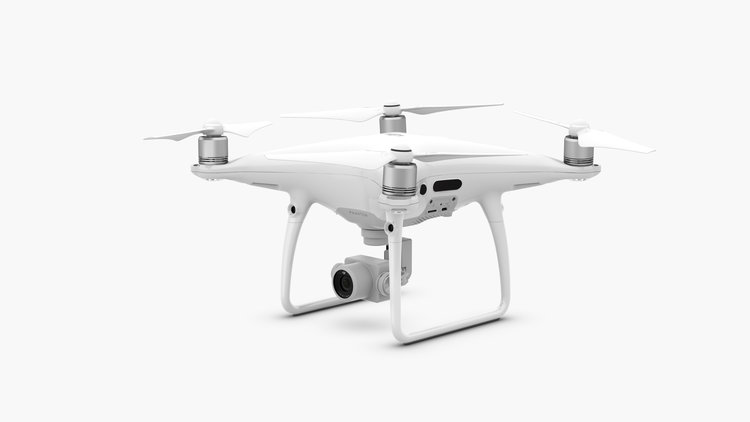 DJI also released the DJI Phantom 4 Pro+, which features a remote controller with a built-in 5.5 inch touch display that is brighter than any other Smartphone, iPhone, Tablet or iPad . The brighter screen enables drone pilots to view their display in direct sunlight without using up the battery power of their own personal device.
Overall, the Phantom 4 Pro is a huge step forward in the area of drone photography and will provide any professional photographer with a state of the art camera that can capture stunning images from a brand new perspective.
PROFESSIONAL FILMMAKING
DJI MATRICE 600
With the DJI Matrice 600, any professional filmmaker will be able to capture movie-quality footage worthy of the big screen. Able to lift up to 15 kilos in the air and be customized to fit the operator's exact needs, the Matrice 600 gives pilots the freedom to build a drone that fits their exact qualifications. The M600 is able to be equipped with any camera or accessory to allow pilots to capture the exact shot they envision.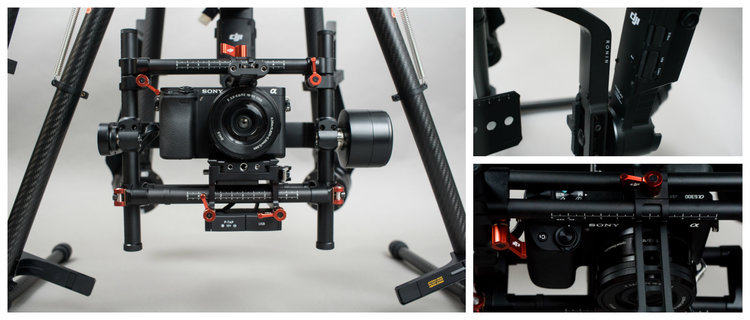 Designed with an aluminum body, retractable landing gear, and folding carbon fibre arms, the M600 is extremely durable and stable in the air to ensure camera footage is stabilized and smooth. Six propellors and motors also provide additional safety in the air. If one or two motors fail while in flight, the drone will automatically recover and safely land.
The M600 is compatible with the entire line of DJI Zenmuse cameras and gimbals and can fly for around 35 minutes with the Zenmuse X5 or Xt, and up to 16 minutes with a heavier camera like the RED EPIC.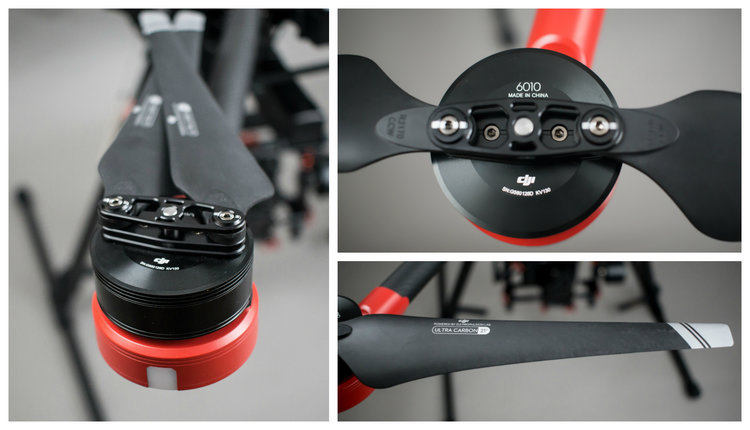 Paired with the Ronin-MX, the Matrice 600 can provide filmmakers with extremely stable, smooth footage from the air while being able to rotate a full 360 degrees. The Ronin-MX can also be connected to the M600's GPS and Lightbridge 2 system and be equipped with almost any camera.  
Overall the Matrice 600 is a powerful system in the hands of a professional filmmaker, that can enable users to capture professional-grade footage for any Hollywood-level production.
DJI Inspire 2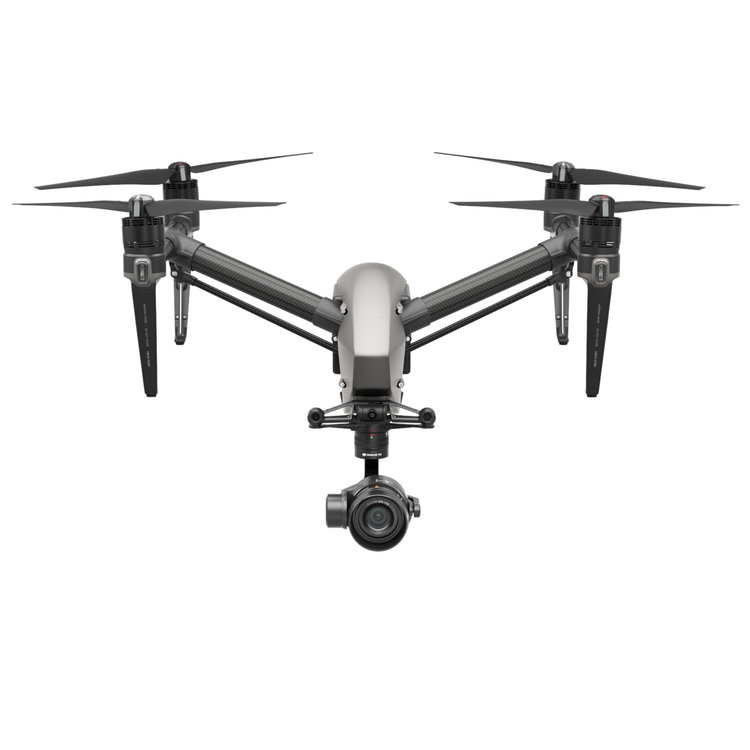 The recently released DJI Inspire 2 was specifically designed with professional filmmakers and photographers in mind. Able to shoot 5.2K video at a 4.2 Gbps bitrate, and fly up to 90 km per hour, the Inspire 2 is a definite force to be reckon with.
Consumers can buy the Inspire 2 with either the Zenmuse X4S or the X5S camera. Additionally, there is a DNG RAW mode for photographers, that can capture 30-megapixel stills. The remote also features a new dual-band Lightbridge HD video transmission system that has a maximum transmission distance of 7km.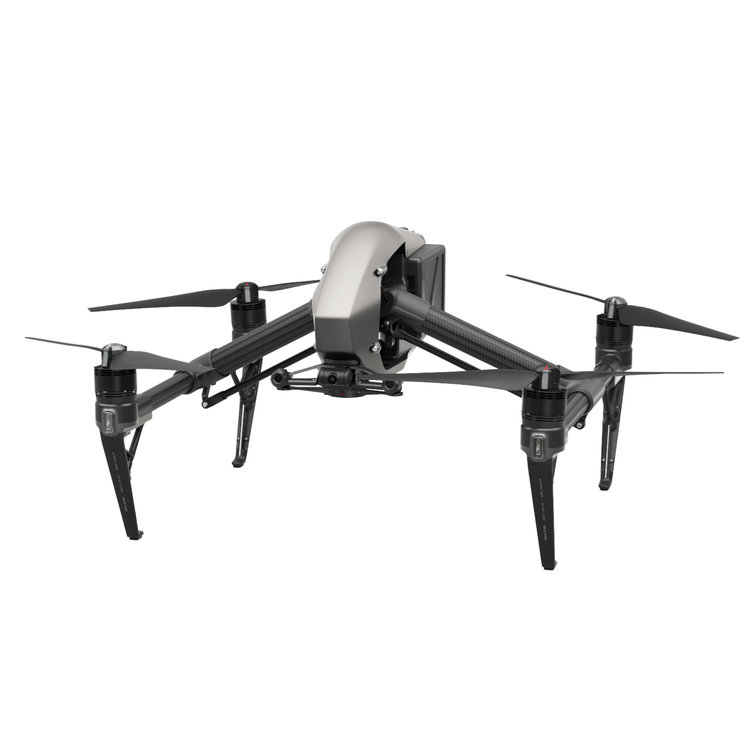 A stand-out feature of the Inspire 2 is its two camera, dual operator system, allowing one person to pilot the drone while the other captures and controls the footage being shot. The Inspire 2 also features a dual battery systems that extends flight time to 27 minutes with the X4S camera, while self-heating technology give the drone the ability to fly in low temperatures.
Overall, the Inspire 2 is poised to be the new go-to drone for all professional aerial filmmaker enthusiasts. Its stand-out camera specs and powerful system make it the perfect choice for any operator looking to create their next big motion picture project.
INDUSTRIAL INSPECTIONS
DJI MATRICE 100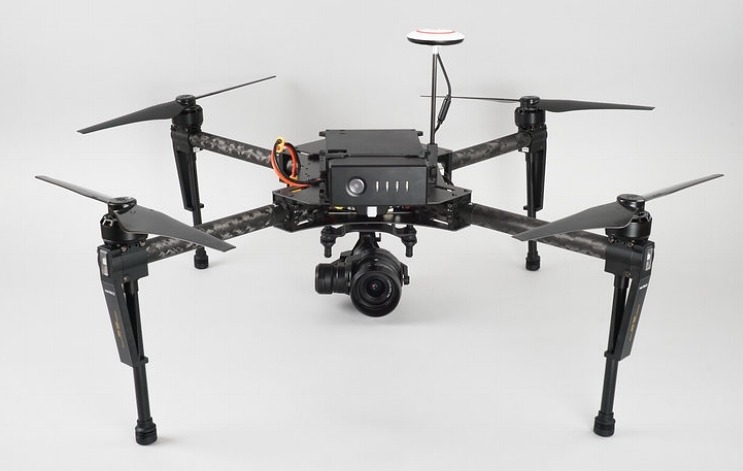 The DJI Matrice 100 is one of the most customizable drones on the market today, making it a great choice for any type of industrial application including mining, construction, agriculture or search and rescue. Made of lightweight carbon fibre, the Matrice 100 is able to stay extremely steady in the air and is equipped with dual batteries to give operators approximately 40 minutes of flight time.
The obstacle avoidance system named Guidance gives the M100 the ability to avoid any obstacles in its path in all directions at a range of up to 65 feet. The system can even scan its environment in real-time to provide accuracy within one centimetre.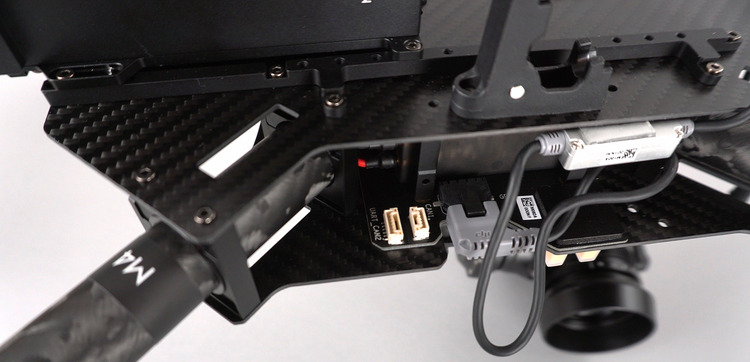 The Matrice 100 is the perfect drone for inspections because of its unique ability ot be customized and programmed for any task. The M100 features expansion bays that allow operators to create the drone that matches their exact specifications. Any accessories can be added to the drone including sensors, cameras (including the DJI X3, X5, XT, and X5R,) or computing boards. With DJI SDK users can develop customized programs and apps to fit their exact needs, while the Matrice 100 as a system is fully expandable and designed with a wide range of power and data ports.
For any developer, researcher, or surveyor. the Matrice is a powerful, customizable system that will give any pilot the ability to carry out any job they need at half the price of any other aerial alternative.
THE BEGINNER
DJI PHANTOM 3 STANDARD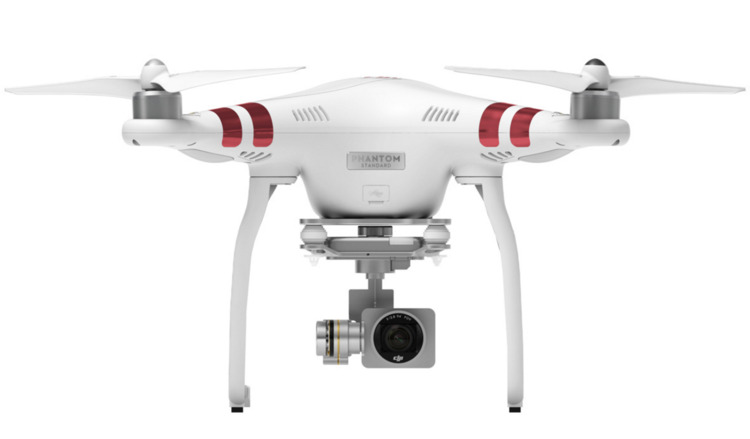 When purchasing your first drone, a new flyer will want to buy something that isn't too pricey but also doesn't sacrifice quality. That is why the DJI Phantom 3 Standard is the perfect choice for someone just beginning to get the handle on piloting a drone.
The Phantom 3 Standard is simple to learn on and still includes a wide array of intelligent features. The Standard provides users with a 2.7K 720p real-time HD view. Even though the drone only has 2.7k video, the camera is still of high quality and perfect for someone just starting out. Additionally, with approximately 25 minutes of flight time, beginners will have a good amount of time to practice their flying.
For beginners, a big advantage of the Phantom 3 Standard is its built-in flight simulator in the DJI Go App, which can help users learn how to operate the drone and controls. The app is easy to use and gives new pilots a chance to practice flying there drone without the risk.
For any operator at the beginning of their drone journey, the Phantom 3 Standard is a great training drone that is easy to pick up and fly. With a well-rounded system and a fair price point, the Phantom 3 Standard is the perfect drone for anyone getting ready for take-off.
READY TO TAKE FLIGHT
Looking for the perfect drone to match your needs can no doubt be an overwhelming process. As drone technology continues to rapidly advance the selection of drones to choose from will only grow, but with proper research the hunt can be easily narrowed. With our recommendations we hope users will have the best flying experience possible, whether they are shooting aerials for the next Hollywood blockbuster or just beginning to test their piloting skills.